Stock selection is important in all market environments, but it really comes to the fore when stocks are falling. During rapid corrections and painful bear markets, all investors would like to pick a stock that goes up rather than a stock that falls drastically.
The question investors are asking now is – are we entering a sustained bear market or is most of the pain already over?
The 2022 bear market was undoubtedly one of the most challenging market environments in recent decades. The volatility has frustrated both bulls and bears as the whiplash action has made it difficult to profit from the long or short side.
But traders who are able to adjust their strategies to accommodate volatility can still make significant profits. When most stocks are falling, it's normal for gains to be smaller than normal and losses to be larger and more frequent. There are a few ways we can mitigate potential negative impacts and adapt our strategy to the more volatile environment, including:
– Size positions smaller than normal, which leads to less capital being tied up. Less capital employed means less overall risk. Holding cash in a hyper-inflationary environment, while not ideal, is better than holding stocks that are falling 20-30% or more in value.
– Tightening of our stop loss/sell target. Using a rules-based system that eliminates emotional decision-making can help us avoid large drawdowns. We can also adjust the parameters of this system to the nature of the market dynamics. In more volatile markets we might adjust a normal 10% stop loss to 7-8%.
– Take profits faster than normal. Due to the inherent volatility during bear markets, rallies tend to be shorter, so we must be prepared to take profits sooner than usual.
Regardless of your individual market approach when investing or trading, there is only one way to protect your portfolio from a big loss. Selling at a small loss before making a big loss is the only way to ensure there isn't a devastating drawdown in a portfolio context.
The most important thing during bear markets is to avoid making the big mistakes. We want to have a plan to help us when the market tests our resolve. The stock market has a way of proving the majority wrong. Making investors feel unwise is the market's way of urging them to act foolishly. It is important to stay disciplined and not deviate from our strategy.
In such a volatile market environment, new long trade initiations should be kept to a minimum and focused only on the best performing industry groups and individual stocks. If the market turns back up, we can become more aggressive. we Let's let the market guide us instead of trying to predict what will happen.
With that in mind, targeting leading industries for long positions is the first step in identifying individual stocks that will outperform the market. The Zacks outsourcing industry is currently ranked in the top 13% of more than 250 industry groups. As it ranks in the top half of all Zacks ranked industries, we expect this group to outperform the market over the next 3 to 6 months. Also note the favorable characteristics for this branch:

Image source: Zacks Investment Research
By focusing on top stocks from leading industry groups, we can dramatically improve our trading results. Let's take a look at a top performer in this industry.
Automated Data Processing, Inc. (ADP – free report)
Automatic Data Processing is a global provider of cloud-based human capital management solutions. Offerings include payroll, benefits administration, talent management, and insurance and retirement services. Automatic Data Processing was founded in 1949 and is based in Roseland, NJ.
ADP has beaten earnings estimates every quarter for the past five years in a row. Most recently, the company reported first-quarter earnings of $1.50/share in July, up 1.35% from consensus estimates. ADP has delivered a surprise earnings surprise of 5.02% over the past four quarters, which has helped the stock return 20% over the past year.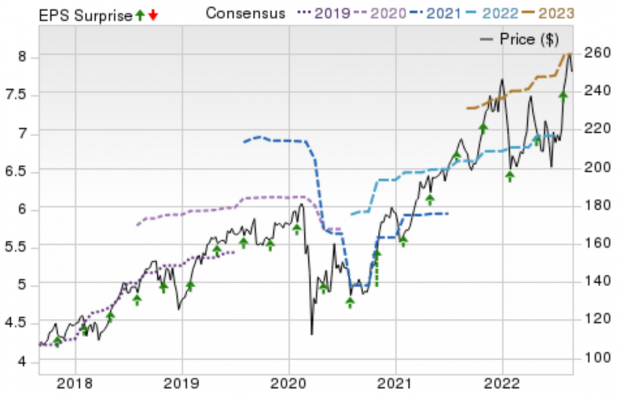 Image source: Zacks Investment Research
For the current fiscal year, analysts are forecasting earnings growth of almost 15% to $8.05/share. Revenue is expected to increase 8.36% to $17.88 billion. It is evident that the growth is there and is expected to continue.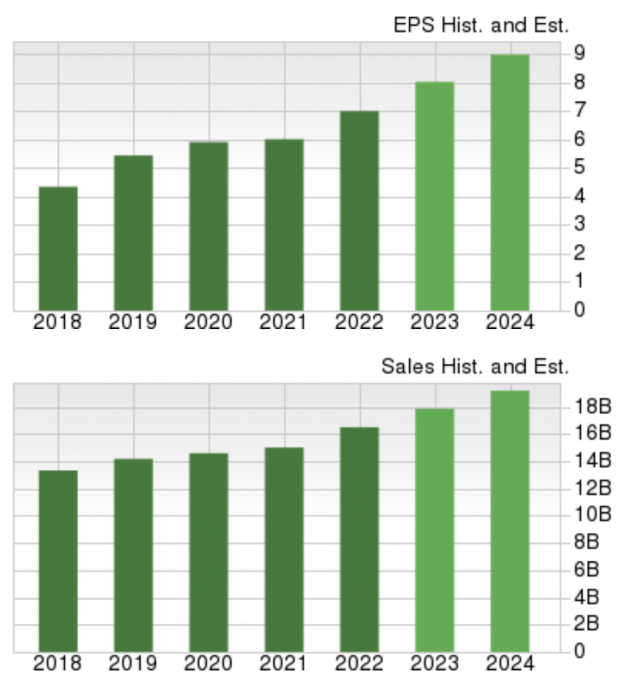 Image source: Zacks Investment Research
Be sure to add ADP to your watch list if you haven't already.