Li-Cycle stocks (NYSE:LICY) recently reported lower-than-expected Q3 results, with both earnings and EPS estimates missing. In light of the significant price declines in cobalt and nickel, the Company was required to make an unfavorable non-cash fair market value (FMV) price adjustment of $(7.3) million unaccounted for tons from the sale of black masses from the previous period. As a result, the company's reported earnings were $(2.0)M, missing consensus estimates by $12.59M. The company's GAAP loss per share of 16 cents also missed consensus estimates by 4 cents. The Company's Adjusted EBITDA loss increased to $31.6 million in the third quarter of 2022, compared to a loss of $5.3 million in the year-ago quarter, which was due to higher operating expenses related to the growth and expansion of the hub and -Spoke network of the company. Adjusted EBITDA was also impacted by the non-cash FMV price adjustment, which impacted revenue.
I don't think Li-Cycle's quarterly earnings and earnings should matter that much to investors. Li-Cycle is poised to significantly grow its revenue over the next few years, and what really matters is how well the company does in expanding its capacity and preparing for the upcoming boom in the lithium recycling market over the next few years positioned .
Li-Cycle ended its third quarter with $649 million in cash and cash equivalents. The Company raised approximately $50 million in investment proceeds from LG Chem (OTCPK:LGCLF) and LG Energy Solution, Ltd. last quarter. and $200 million in Glencore (OTCPK:GLCNF) (OTCPK:GLNCY) convertible debentures. This strong cash position gives the company sufficient liquidity to invest in its current project pipeline.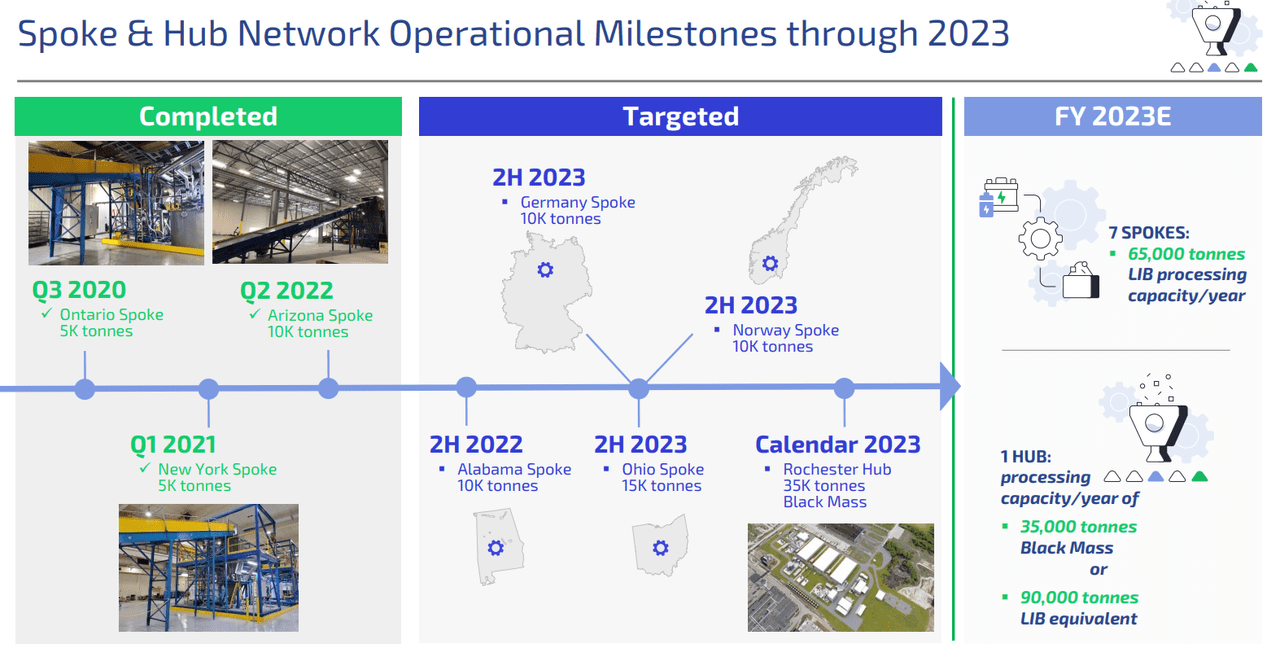 Investments from strategic partners such as Glencore and LG also show that the company's technology is endorsed by leading industry players. The company continues to win commercial contracts for battery materials with global customers. Third quarter awards included significant energy decommissioning projects from a leading US utility and a global battery manufacturer. The company has also been selected as a global lithium-ion battery recycler for an emerging EV OEM.
Operationally facing some challenges and a few quarters delay in timing to accommodate spoke optimization projects in Arizona and Alabama, prompted the company to reduce its production target for mass production of black to 3,500-3,800 tons from the previous 6,500-7,500 tons. The company's facilities in Arizona and Alabama are the first of their kind to be able to process entire battery packs for electric vehicles and stationary energy storage without the need for disassembly. According to management, they have temporarily slowed the pace of operations at Arizona Spoke and moderately delayed commissioning at Alabama Spoke to make these improvements. This pushed back the achievement of FY22 production targets by a few quarters.
The good news is that since completing these optimization projects, Arizona Spoke is now approaching target throughput and demonstrating higher recovery yields from the black mass. The Company intends to leverage the process improvement and key learnings from Arizona Spoke for Alabama Spoke (planned to launch late in Q4 2022) and future Spoke locations in Norway and Germany (planned to launch in the second half of 2023). )
On the Rochester Hub schedule, the Company has commenced EPC work and its construction work is expected to be completed in early 2023. Final mechanical, piping, electrical and instrumentation work is expected to be completed by early 2024 and management anticipates final commissioning around the same interval.
While the stock corrected its results as investors disliked the delay in spoke tweaks, such hiccups are not uncommon when we're dealing with a company operating in a fast-growing market (say, Tesla ( TSLA)) still growing rapidly continues to face similar production ramp-up issues.)
According to consensus estimates, the company's revenues are expected to grow from $37.93 million in FY22 to $750.44 million in FY2025. What matters in such fast-growth cases is whether the company's long-term growth history is on track. That certainly appears to be the case here, and the company's long-term prospects continue to improve as its TAM continues to climb and government policies continue to provide support.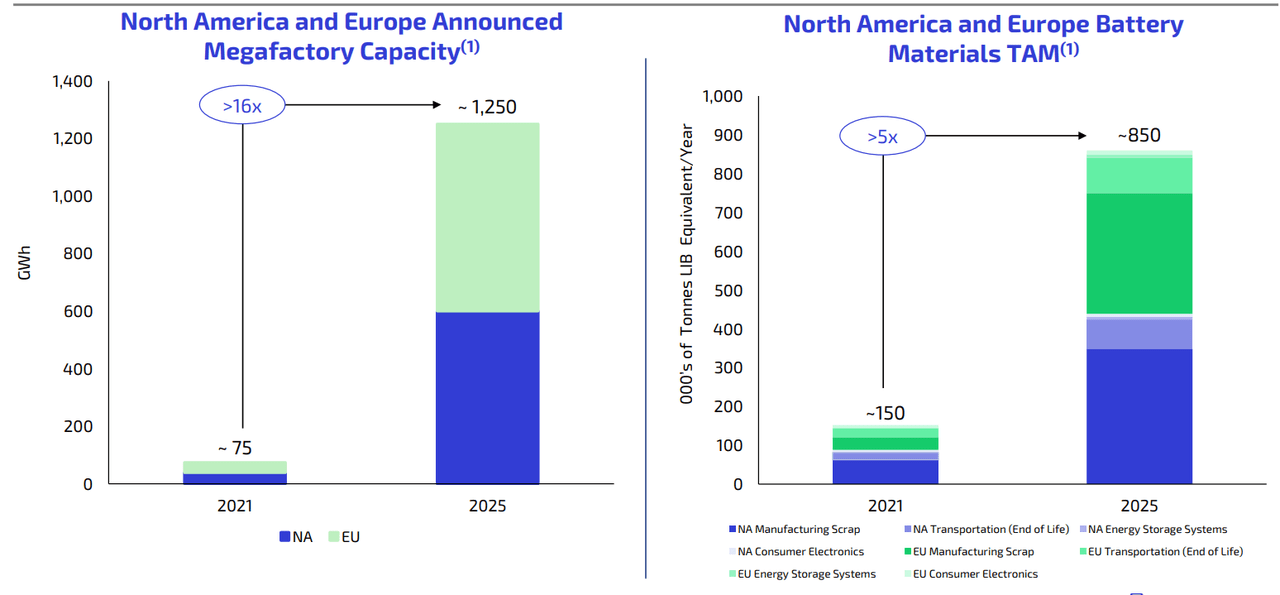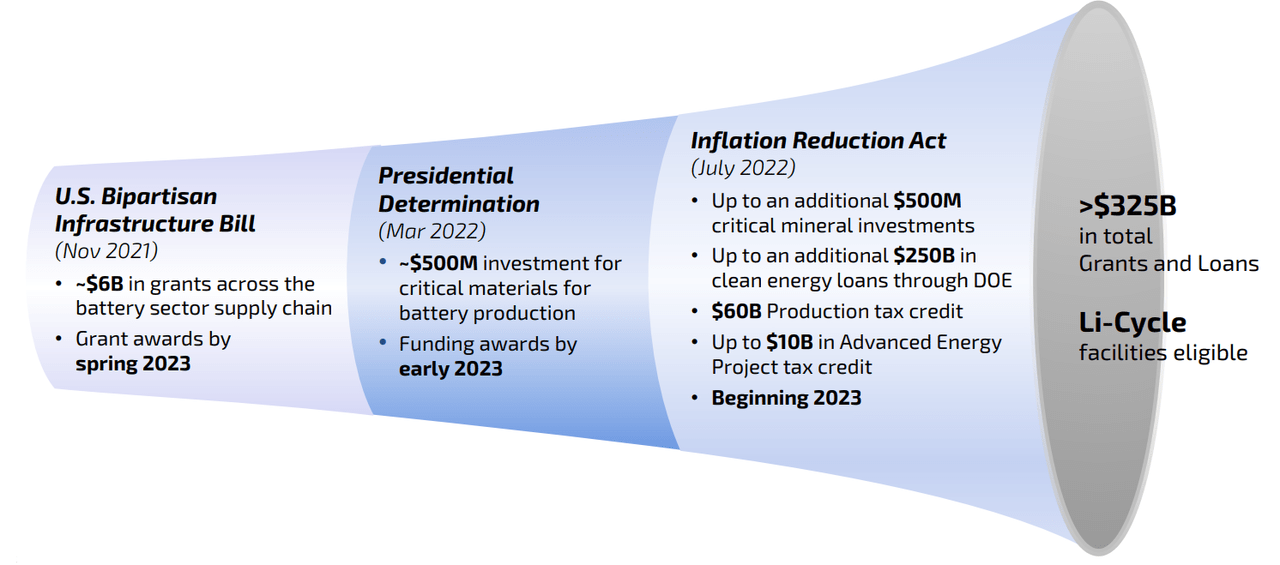 Since most of the major lithium reserves are located outside of the US and its European allies, it is in the best interests of the governments of these countries to encourage recycling of lithium. Looking ahead, I therefore expect the political environment to remain favorable.
Li-Cycle has a great opportunity ahead of it. While lithium recycling is something of a big deal, the company's differentiated technology, which offers higher yields and leaves less waste, offers some advantages. This, combined with the support of strong strategic partners such as LG, Glencore, Traxys, etc., puts the company in an advantageous position and increases its chances of success. I believe the company's long-term prospects are intact and investors willing to wait for the company's operations to expand over the next three to four years might consider a position in the stock after the recent correction .